Reactive Systems Marks 20-Year Anniversary
Cary, NC (December 19, 2019) -- Reactive Systems, Inc. recently marked the 20-year anniversary of the launch of the Company. The first meeting of the incorporators was held in Stony Brook, New York on December 8, 1999. The Bylaws were approved and the founders Rance Cleaveland, Scott Smolka, and Steve Sims were elected as the first Board of Directors. The composition of the Board has remained constant for the two-decade history of Reactive Systems.
Sims, employee number one, was soon joined by his father Harry Sims who has served as Treasurer since the Company launch and David Hansel who became the lead Reactis developer and now serves as Chief Technology Officer. Dan DuVarney joined Reactive Systems in 2005 to lead the development of Reactis for C as he continues to do today. In 2007 Michio Morimoto was hired to launch a branch office in Japan. Morimoto continues to lead the Japan branch and manage Asian distributors.
Over the years, the core team was joined by talented colleagues, many of whom remain with the Company. As we reflect on the milestones laid out in the graphic below, the entire Reactis team is extremely grateful to all partners and Reactis users who have made this journey possible. Thank you!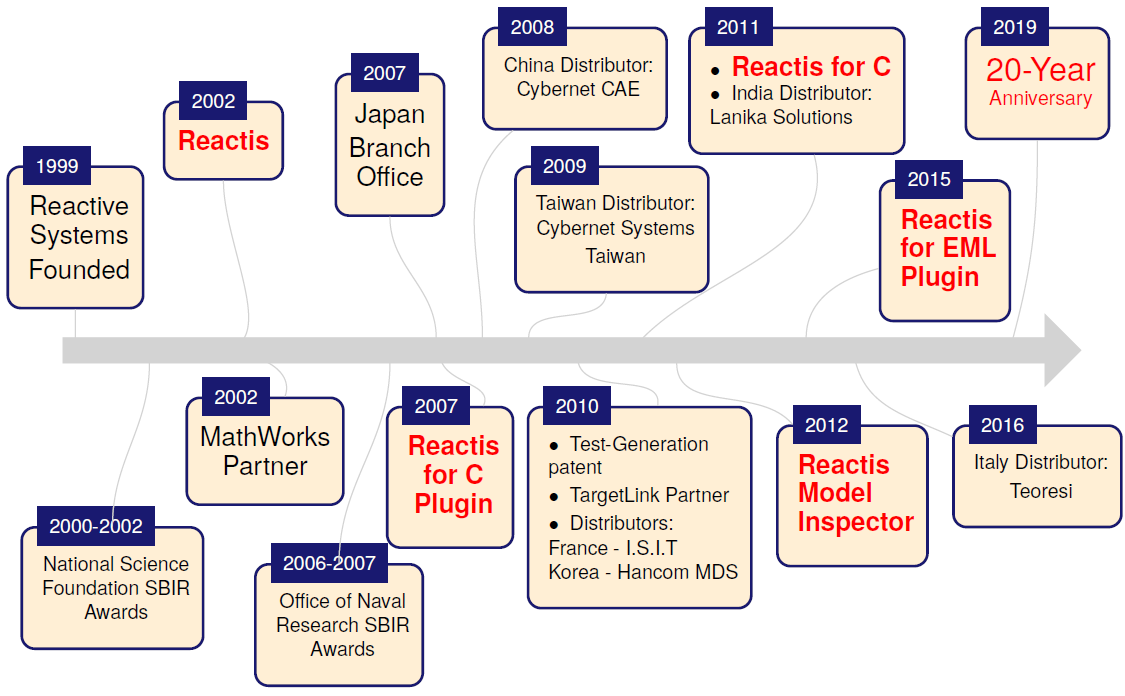 About Reactive Systems. Reactive Systems, founded in 1999, is a software testing and validation company with offices in Cary, NC and Nagoya, Japan. The Company develops the Reactis family of tools that support the test and debug of embedded software applications developed using Simulink, Stateflow®, and C code.