Reprinted with permission from
Greater Reston Chamber of Commerce
Greater Reston Chamber Incubator Program Announces GrowthSPURT 2003 Winner: Reactive Systems Inc.
Andrew Sterling, Greater Reston Chamber of Commerce
asterling@restonchamber.org / 703.707.9045
Reston, VA (March 18, 2003) -- The Greater Reston Chamber of Commerce Incubator Program is pleased to announce the GrowthSPURT 2003 Business Plan Competition honoree as being Reactive Systems Inc. The ground-breaking new company, founded in 1999 by researchers at SUNY at Stony Brook and the Naval Research Laboratory, provides innovative tools and services for modeling and testing embedded software, such as that found in automotive, aerospace, medical-device and telecommunications applications.
Rance Cleaveland, CEO of the newest member of the Chamber Incubator Program, commented: "We are honored and delighted to have been chosen as the winner of the 2003 GrowthSPURT competition. The expert advice and guidance from the Incubator Program and Greater Reston Chamber of Commerce staff, members and associates that we now have access to will give a huge boost to the development of our business."
RSI released the first version of its flagship Reactis(tm) tool in summer 2002 and has made sales so far to major North American and Japanese automotive manufacturers and suppliers. In 2000 and 2001 the company was the recipient of Small Business Innovation Research grants from the National Science Foundation.
Incubator Advisory Board Chairman Scott Townsend, a Junior Partner with Hale and Dorr LLP stated, "The Incubator Program of the Greater Reston Chamber of Commerce helps early-stage companies maximize the opportunity for success by providing valuable access to mentors and consultants. Winning the GrowthSPURT Business Plan Competition provides a number of tangible benefits ranging from office space, access to specialized educational programs, increased press exposure to expert advice from mentors and consultants that are typically available only for larger companies with large budgets. GrowthSPURT is an excellent opportunity for a company with a great business plan to accelerate their growth."
A panel of eight industry judges with expertise in new business development and entrepreneurial growth declared the winner based on originality of product, comprehensiveness of business and marketing plans, formal presentation to the panel, and a variety of other qualities. GrowthSpurt 2003, in its second year of competition, was developed to motivate aspiring entrepreneurs to put their business plans to paper in an effort to spur new business development in the greater Reston region.
Special thanks to the GrowthSPURT panel of judges: Scott Townsend, Hale and Dorr LLP; Mike Clarke, Access National Bank; Mark Trice, PricewaterhouseCoopers; Susyn Schweers, Washington Business Journal; Nick Williams, SV Group, LLC; Braun Jones, The McLean Group, LLC; Kristi Hedges, The SheaHedges Group; and Michael Helmicki, Edison Venture Fund.
The Greater Reston Chamber of Commerce Incubator Program is supported by Gold Sponsor Access National Bank, and Silver Sponsors Hale and Dorr LLP, Cooley Godward LLP and PricewaterhouseCoopers LLP. Other contributors to GrowthSPURT 2003 included the Washington Business Journal and the Century Club of George Mason University, Inc.
The Incubator Program is now accepting applications for both the In-House and Virtual Programs. For more information, please visit the Greater Reston Chamber online at www.restonchamber.org or email asterling@restonchamber.org. Learn more about Reactive Systems, Inc. at www.reactive-systems.com or by emailing cleaveland@reactive-systems.com.
*Photo: Reactive Systems Inc. CEO Rance Cleaveland is notified of his company winning the prestigious GrowthSPURT 2003 business plan competition, the second annual contest sponsored by the Greater Reston Chamber of Commerce's Incubator Program.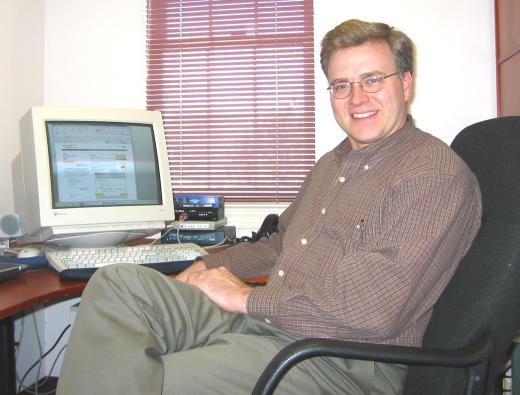 Photo Credit: Reactive Systems Inc.

The Incubator Program of the Greater Reston Chamber of Commerce will assist entrepreneurs in forming and developing high-growth businesses in various sectors of the regional economy including technology, government services and supporting industries. The Incubator Program will provide physical space, businesses services and technical support to help emerging businesses grow. Job creation and increased regional prosperity as the program's primary goals. For more information on the Greater Reston Chamber of Commerce Incubator Program, please visit www.restonchamber.org or email Andrew Sterling at restonbiz@restonchamber.org.